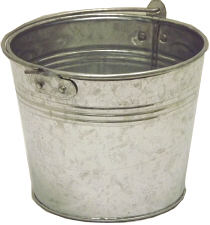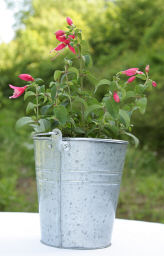 These galvanized buckets are great for holding flowers, as gift buckets, to store or organize kitchen utensils or bathroom supplies. Use them as a bucket centerpiece at weddings or events.
This product is available in multiple sizes and/or colors. See the table below for options.

Please note: All Measurements are Outside Dimensions.

Order Item
| | | | | | | |
| --- | --- | --- | --- | --- | --- | --- |
| Item | Size | Color | Item # | Price | Weight | Buy |
| Galvanized Flower Bucket | 5" Top Diameter x 4" High x 4" Bottom Diameter | Galvanized | Orhby411 | $2.49 | 0.5 lbs | |
| Galvanized Flower Bucket | 6" Top Diameter x 5" High x 4.5" Bottom Diameter | Galvanized | Orhby431 | $2.99 | 0.4 lbs | |
| Galvanized Flower Bucket | 7" Top Diameter x 6" High x 5 1/2" Bottom Diameter | Galvanized | Orhby441 | $3.99 | 1 lbs | |