1.5 Quart Galvanized Metal Flower Buckets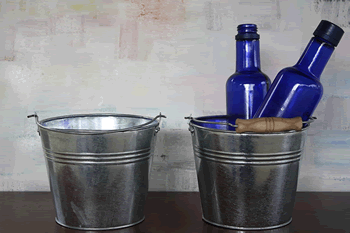 Dimensions (inches):
| | | | | |
| --- | --- | --- | --- | --- |
| | Height | Height w/ Bail | Top Diameter | Bottom Diameter |
| Plain Handle | 5 | 8 1/2 | 6 | 4 1/2 |
| Wood Handle | 5 | 9 | 6 | 4 1/2 |
Your order ships from Virginia by UPS to arrive anywhere in the Contiguous United States within one to seven business days of our receiving your order. This item may be shipped to Canada, Alaska, Puerto Rico and Hawaii and arrives within eight to fourteen days.
(1 review)

How hard can it be to decide between handle styles, right? Wooden bails make handling traditional work buckets easier. The bucket construction and handle attachment featured here is not meant for heavy use. Instead, the attractive bucket features are enhanced. These buckets make good pots for cut flowers, decoratively rustic planting containers, old fashioned wedding bucket decor or vintage organization containers for your grandma's kitchen.

1.5 quart metal flower buckets just like these display hearty flower arrangements and healthy plants. No place for all the fresh cut flowers? Not Anymore! The optional plastic watertight liner won't leak; plants will live! Make these round metal rustic buckets into planters by drilling three small holes into the bottom (or by carefully - and at your own risk - punching three holes into the pail bottom with a hammer and nail). Hint: coat the holes with clear nail polish to prevent rusting around the holes before planning. Two regular drinks or one wine bottle will fit like intended gifts into these buckets.

Choosing which handle style is right can be a tough buying deliberation. They don't make many wooden handle galvanized bucket bails anymore, even though routinely more desired. You can't go wrong with either of these silver pails.
Select Bucket Style: