The inch measurements listed below the product refer to the product height.

Our Mailing Address:
Bucket Outlet
1035 Sylvatus Highway
Hillsville, VA 24343

Galvanized Tubs
Galvanized tubs are in hot dip spangled or smooth electro-galvanized metal finish. Largest selection of durable noncorrosive galvanized steel tubs suitable for use inside or outside. Made in the USA. Large galvanized tubs built for heavy duty use and economical buyers. Guarantee victorious laundry days and afternoon dog baths you can count on. And that's not all they're good for anymore. Classic galvanized metal tub styles will satisfy any chore or decor.
Who doesn't love old fashioned metal tubs? Galvanized tubs for old time baths, washing dogs, DIY carnival games, thoughtful gift baskets, festive celebrations, seasonal porch decoration, kid room organization, getting crafty, making rustic table centerpieces, or as unintentional barn decorations. This line of old-fashioned galvanized wash tubs was carefully hand-picked for beauty and function by our small team in Virginia. Jump to , , washtubs and storage tubs


Galvanized Tubs: Frequently Asked Questions
Galvanized metal is just a form of steel with a thin outer coating of zinc oxide. The zinc protects the steel from elements that would otherwise cause oxidation, corrosion (rusting) and the eventual weakening of the steel. The way in which the zinc coating is applied to steel gives galvanized buckets their shiny or texture finish. Shiny finish galvanized buckets are of the same functional quality as the textured (hot-dipped styles) but are traditionally perceived as the more expensive choice.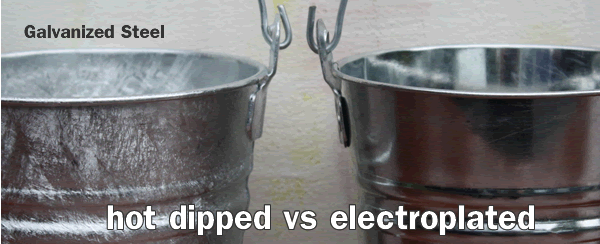 The special quality of galvanized steel is all of the energy and emissions spent in the lifecycle of this product are isolated its production. Hot-dip galvanized steel's maintenance-free performance means no wasted energy or emission created on upkeep. For 70+ years, galvanized steel will often remain maintenance free – no raw material or energy expended, no carbon footprint extending beyond the production phase.
According to writers at galvanizeit.org, "The true beauty and sustainability of incorporating hot-dip galvanized steel (HDG) into transportation infrastructure is there really is no 'end-of-life,' only a return to production – cradle-to-cradle, rather than cradle-to-grave. At the end of its useful life, galvanized steel elements can be recycled into structural steel for construction of new infrastructure or other applications and the zinc captured for reuse in new galvanized coatings." (1)
Electro galvanized (electroplated) coatings are created by applying zinc to steel sheet and strip by electro deposition. The coating thickness is less than the hot dipped process but provides a smoother finish. When slit or cut the steel edges under the zinc remain exposed, bare and threatened by corrosion. White rust or the product of zinc reacting with atmospheric oxygen and water does not occur on the smoothly finished galvanized steel buckets.
Hot dipped galvanized buckets are made durable from steel immersed in a bath of molten zinc. Pure zinc (Zn) reacts with atmospheric oxygen (O) and carbon dioxide (CO2) to form zinc carbonate (ZnCO3), a usually dull gray, fairly strong material that prevents corrosion.The zinc-iron alloy layers are metallurgically bonded to the steel and become an integral part of the steel rather than just a surface coating. Offering excellent abrasion resistance are the harder than the base steel and tightly bonded (3,600 psi) intermetallic layers. even if the durable intermetallic layers of the hot-dip galvanized coating are damaged (up to ¼" in diameter) adjacent zinc will sacrificially protect the exposed steel until all of the surrounding zinc is consumed.
Hot dipped buckets are less uniform for a rustic look most fitting for traditional farming and agriculture practices. Exposure to water over time will cause these buckets to oxidize with "white rust". Most commonly batch hot-dip galvanizing is used in atmospherically exposed steel; however, it is also used in fresh and salt water applications, buried in the soil, embedded in concrete, and much more.

The condition or symptom of hot dipped galvanized metal being exposed to weathering elements is known as white rust. White rust happens in instances when a galvanized container is left outside, or is stored in a closely packed, damp or poorly ventilated manner. White rust is a normal characteristic of aged galvanized metal representative of their environment.

Under normal conditions the zinc surface will react with the surrounding air forming a thin, hard protective layer, known as "white rust". Whenever white rust is found on galvanized materials, it usually is not found is a significant amount to dangerous to the zinc coating. White rust appears with time and weathering but if the galvanized coating is damaged, it can be problematic. Damage to the zinc coating is unlikely, even when outside in temperate regions, throughout the bucket's or tub's lifetime.

White rust does not indicate one should worry about the zinc coating or the life span of your galvanized metal bucket or tub. If the product has a black color, the zinc coating has been compromised one should consider replacing the product, or have the item re-galvanized.

You can avoid damaging white rust by storing your galvanized bucket or tub or trough to ensure the surface receives adequate airflow, can't retain water and can dry properly (if water may be present).

There are several ways to make a brand new galvanized piece look like it has been around for a while. Determining on what look you are looking for, depends on what technique you choose. Check out the info graphic below to see the science of the corrosion reaction.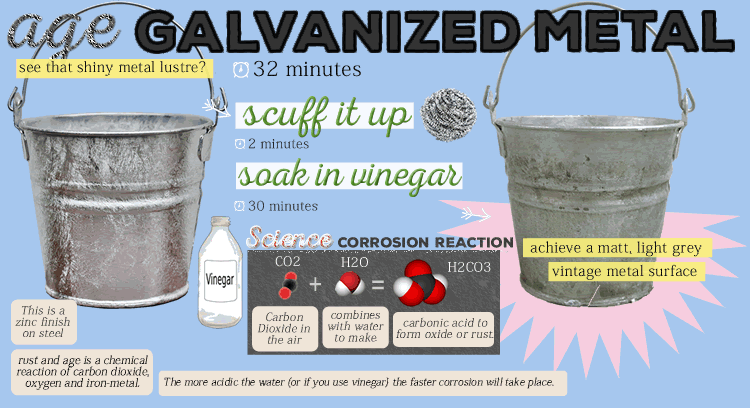 If the idea is to remove the shiny look and go for a dull, weathered finish: Try Vinegar! Take the galvanized product and scuff it up sandpaper, steel wool or whatever abrasive you have handy. Submerge the product in vinegar. If the piece to be dulled is too large to be submerged, put the vinegar in a spray bottle, or soak paper towels in vinegar and lay them on the galvanized metal. If using the paper towel method, make sure to replace the vinegar as it dries to get the desired effect. If the metal still doesn't oxidize, try scrubbing with the abrasive again and repeating the process.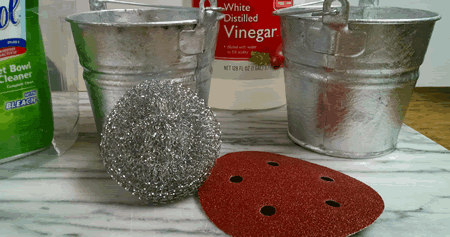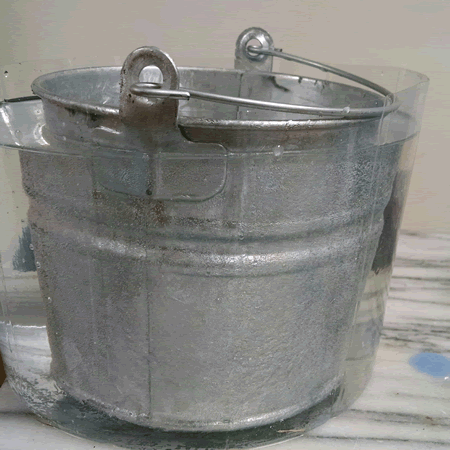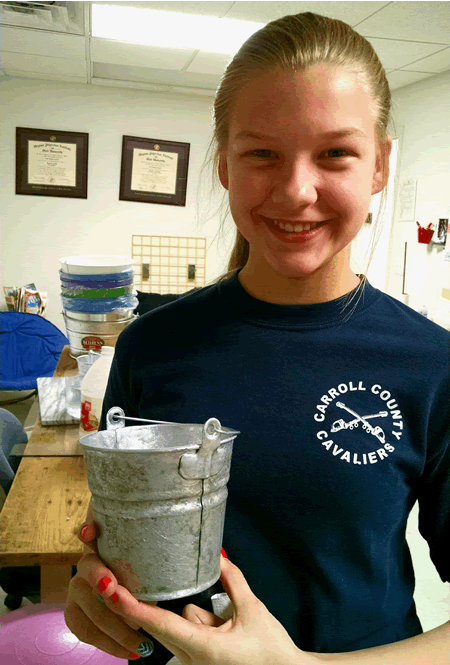 After soaking a new galvanized metal bucket in vinegar FOR ONLY 30 MINUTES, the photo above shows what it looks like.
If you are looking for a more distressed look, try toilet bowl cleaner. Use steel wool to rough-up the finish to allow the chemical to tarnish the metal. Using disposable gloves spray the galvanized product liberally and scrub again with the steel wool. Let the product sit for about half an hour or until the desired look is obtained. Rinse the product to halt the corrosion process. Please dispose this water responsibly.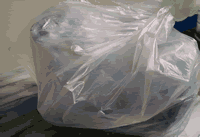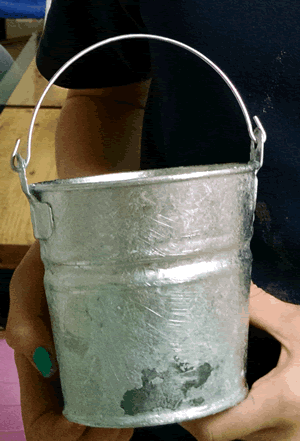 We tied the bucket inside a bag for 30 minutes. The photo on the right shows what the galvanized metal buckets looks like distressed with toilet cleaner.

If chemical weathering isn't your cup of tea, try using a painting method instead. Using either gray or white paint to give the bucket a weathered look is an excellent idea. Using sandpaper, buff the galvanized product to remove the sheen and then remove the remaining dust with a cloth. With a small amount of paint on your paintbrush, smear a light coat all over the surface of the galvanized product and then rub the paint with a balled up newspaper. This will give the appearance of aged white rust.

Another time tested method is to distress the metal by denting. Aesthetically placed dents give the product a one of a kind look that shows a rustic, rugged style. Nuts, bolts or even wood that are strategically placed wherever the dent is to be located. Place the bucket on its side (if that is where you would like the dent), and simply press down onto the bucket.

Aging galvanized products is not a hard process, but the treasures that the process creates are well worth the effort. Never has the procedure been so simple using just normal, everyday products. Enjoy!

(1) http://www.galvanizeit.org/transportation-seminar/environmental-advantages/life-cycle-assessment-lca