1.25 Quart Galvanized Bucket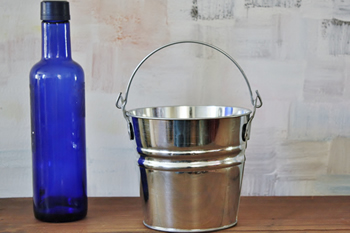 Dimensions:

| | | | | |
| --- | --- | --- | --- | --- |
| | Height | Height with Handle | Top Diameter | Bottom Diameter |
| 1.25 Quart Galvanized | 4 1/2 | 7 1/4 | 5 3/8 | 4 |

Manufactured with a watertight seal


These Galvanized Metal Buckets may arrive with small scratches and blemishes due to the shiny surface and movement in shipping. We pack these buckets well but some shifting and settling during shipping may occur. A wire reinforced top rim and the rings around the buckets, known as body swedges, increase the strongly built bucket's sturdiness. A rugged strong bucket handle makes handling and filling these buckets easy. An offset bottom keeps pail off the ground and makes pouring easy. Please note: This bucket is manufactured with two different styles of handles. In your order you may receive all of one type of handle or a mix of both handles.

(1 review)

This 1.25 capacity galvanized bucket is a tough little bucket. This steel bucket is built to last with features such as reinforced body swedges, a tough wire rim and an offset bottom. The top handle ergonomic design allows for greater carrying capacity and ease of use. The galvanization process ensures that this bucket will remain rust free for years of use!
Use this bucket for organizing small parts when disassembling equipment. Organize your work bench with these sturdy buckets. Tired of looking for that certain length of nails or screws to make repairs? Make your own nail and screw organizer! The possibilities are endless with this these multipurpose pails.Please note: Bucket is not hot dipped and has a shiny appearance.


Your order ships from Virginia by UPS to arrive anywhere in the Contiguous United States within one to seven business days of our receiving your order. This item may be shipped to Canada, Alaska, Puerto Rico and Hawaii and arrives within eight to fourteen days.