Galvanized Bucket FAQ
Galvanized metal is just a form of steel with a thin outer coating of zinc oxide. The zinc protects the steel from elements that would otherwise cause oxidation, corrosion (rusting) and the eventual weakening of the steel. The way in which the zinc coating is applied to steel gives galvanized buckets their shiny or texture finish. Shiny finish galvanized buckets are of the same functional quality as the textured (hot-dipped styles) but are traditionally perceived as the more expensive choice.
Steel bucket advantages over plastic:
Weather and chemical resistant
Higher durability
Won't absorb odor
Rodent proof
Recyclable - up-cycling
No petroleum in the product
Classic high quality and durability.
Electrogalvanized (electroplated) coatings are created by applying zinc to steel sheet and strip by electrodeposition. The coating thickness is less than the hot dipped process but provides a smoother finish. When slit or cut the steel edges under the zinc remain exposed, bare and threatened by corrosion. White rust or the product of zinc reacting with atmospheric oxygen and water does not occur on the smoothly finished galvanized steel buckets.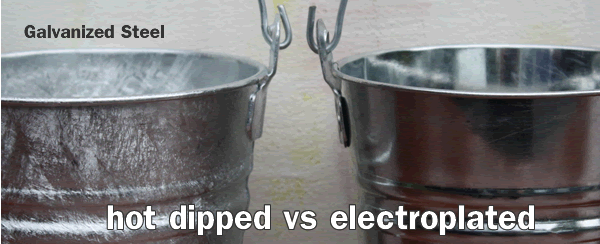 Hot dipped galvanized buckets are made durable from steel immersed in a bath of molten zinc. Pure zinc (Zn) reacts with atmospheric oxygen (O) and carbon dioxide (CO2) to form zinc carbonate (ZnCO3), a usually dull gray, fairly strong material that prevents corrosion.The zinc-iron alloy layers are metallurgically bonded to the steel and become an integral part of the steel rather than just a surface coating. Offering excellent abrasion resistance are the harder than the base steel and tightly bonded (3,600 psi) intermetallic layers. even if the durable intermetallic layers of the hot-dip galvanized coating are damaged (up to ¼" in diameter) adjacent zinc will sacrificially protect the exposed steel until all of the surrounding zinc is consumed.
Hot dipped buckets are less uniform for a rustic look most fitting for traditional farming and agriculture practices. Exposure to water over time will cause these buckets to oxidize with "white rust". Most commonly batch hot-dip galvanizing is used in atmospherically exposed steel; however, it is also used in fresh and salt water applications, buried in the soil, embedded in concrete, and much more.

Although popular for keeping drinks in their containers cold, galvanized buckets do not meet USDA food safe serving standards. The galvanized metal can trap bacteria regular washing won't clean.
Line your bucket with wax paper to fil it with food for a picnic. Or try our food-safe easy to clean 13 quart stainless steel water bucket is rust and scratch proof, odor-free, hygienic and dishwasher safe. Click the image below to view this food-safe bucket.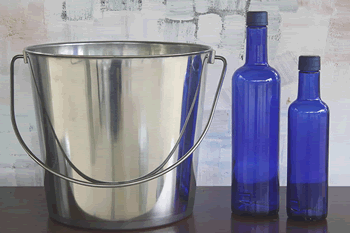 Solutions that have a PH of higher than 12 (lye, bleach) and lower than 6 (vinegar, soda, lemon juice) should be avoided. These items will cause the protective galvanized layer to corrode. If using these products in galvanized buckets, make sure to clean the bucket before and after contact with the items in question. Certain metals can corrode the protective galvanized coating as well. Dissimilar metals such as copper, brass can accelerate the corrosion process. Whenever these contradictory metals must be put into contact with each other, an insulator is recommended.

Zinc, a mineral necessary for proper biological function, occurs naturally in certain foods and is added as a dietary supplement alone and with other foods. Zinc is found in greatest amounts in Oysters, Red Meat, Poultry, Crabs, Lobster, and fortified breakfast cereals. Other foods that contain zinc are Beans, Nuts, Dairy products and Whole Grains, just not in the amounts as the items in the previous sentence. Zinc is also found in cold remedies as it assists with speeds recovery.

However, some evidence may indicate that too much zinc may be harmful. Avoid cooking and drinking out of galvanized products as acidic foods can cause the zinc coating to leach.

Cleaning the galvanized bucket is the best way to insure it lasts.

For everyday dirt, choose a solution of clean potable water, water based soap and a soft, clean towel to gently remove dirt or any other debris from the surface of the bucket.

If this method doesn't remove the soiled area, try using a plastic bristled brush and an oil. We've used WD40 and a scrubbing pad to take off black marks. Use this method with caution because you'll actually remove the galvanized metal coating with the black stain. Avoid using any metal bristled brush as it will remove the galvanized coating altogether. Make sure to dry the clean bucket and put it out of the elements.

If you do use your galvanized bucket it will develop what is called "white rust" when it is exposed to water in the air, which is just oxidation and should not affect the performance of the bucket. Although, these buckets can take a fair about of abuse, for optimum performance choose an area that has adequate ventilation and has a low amount of moisture. Avoid areas that are damp and poorly ventilated.


Galvanization is a highly specialized process. Sure, you can temporally fix a corroded area with various varnishes, zinc apoxy paint, zinc silicate paint, or a coating of whatever you've got in your tool room. However, it is important to note that once galvanized metal has started to deteriorate, it's useful (and quite long, in terms of product lifecycles today) life is over. Time for a replacement that'll last another 100 years.

Will zinc rust? Well, sure! eventually, that is. To learn how to speed up the process yourself read how to rust galvanized metal, a DIY project.

A wire reinforced top rim and the rings around the buckets, known as body swedes, increase the strongly built bucket's sturdiness. A rugged strong bucket handle makes handling and filling these buckets easy. An offset bottom keeps pail off the ground and makes pouring easy.

You need a galvanized bucket you can count on. A bucket that's durable, dependable and will last your lifetime of getting the job done. We love galvanized pails because they're an old fashioned secret - quality work and utility buckets you can use for anything. Here's a list of 100 things they're good for. have more? send them to us - kenneth@redhillgeneralstore.com
Picking corn in a pail
Watering horses
Pail for mopping and chores
Collecting Walnuts
Draining fluids from farm equipment
Storing soap and mop
Picking ginseng
Carrying eggs
Picking grapes
Milking cows
Carrying milk bottles
Collecting berries
Feeding Cows
Bailing Water
Lunch Pail
Fencing Staple Container
Picking up rocks
Use as the head of your scarecrow
Feeding Dogs
Carrying Medicine
Collecting tomatoes
Kick it, instead of the dog.
Mouse Trap bucket
Collecting apples
Calling animals
Filling sprayers
Picking apples
Catch the water leaking from the roof.
Picking flowers
Picking up rusty nails
Spreading seed
Collecting pinecones
Picking up walnuts
Washing the tractor
Put grass in it when weeding the garden
Wash the dog with it
Feeding cattle minerals
Picking cherries
Start seeds before they can be planted outside
Carrying tools
Ash Bucket
Feeding chickens.
Scrap Bucket
Claim it as a dependant on your taxes.
Manure bucket
Feeding cats
Picking lemons
Japanese beetle trap bucket
Animal feed storage
Keep up with the tie downs in your pickup by putting them in a bucket.
Nuts and bolts bucket
Collecting potatoes from the garden
Seat
Charcoal storage
Digging turnips
Bin when picking up trash
Collecting kindling from the forest
Picking strawberries
Picking up chestnuts
Trash can , waste bin
Retrieving water from the well
Put it out to collect rain water
Soak your feet in it.
Poke holes in the bottom and use it to catch fish
Save your change in it while saving for a bigger galvanized bucket.
Dog water bowl.
Keep rock salt in it beside your front door in case it snows
Scrub the show animals
Attach it to the headache rack of your flatbed pickup truck to keep small items from falling off
Make your own homemade stand-up bass for your bluegrass band.
Collect walnuts in it
Wash animal health devices in it.
Serve drinks in
Mix concrete in a bucket
Use it to pour on fly repellent for livestock
Use it to soak infected feet for cattle.
MIx paint in it
Put your screws in it when making barn repairs.
Use it for a "catch all" junk bucket.
Pick carrots
Put sand in a bucket to use it as a weight for holding large tents in place.
Fill it a bucket with concrete to use as a boat anchor.
Take it snipe hunting.
Use it to organize small items in your truck toolbox.
Use as a catch holder when you go fishing
Store seeds
Wash clothes in
Coal storage
Raccoon/bear protection from things left outside.
Place them over crops for frost protection
Store ropes and chain
Poke holes in it and use as a minnow trap.
Emergency shovel
Cistern
Chamber pot. (Just don't mix up your cistern bucket and chamber pot.)
Step stool.
Small water filtration unit
Camp stove
Game feeder
Put your valuables in a bucket. (Who would look there?!?!?)