Galvanized Buckets
Galvanized buckets for peanuts, chilled wine, iced beer, lobster, crab legs, french fries, animal feed, farm use, tailgating, crafts, planting flowers, holding gift baskets, containing a fruit basket and herbs, loose item storage or as a ice bucket. Galvanized steel gives these silver buckets their color. Decorate rustic or country weddings, events or your home inside and out.
Nothing comes in handy like a galvanized bucket.
Our full line of galvanized metal buckets comprises Both tin buckets for decoration and tough farm buckets, made with sturdy galvanized steel construction you can rely on, are featured in our full galvanized bucket product line.



Galvanized Planters and Buckets for Crafty Decoration




Old Fashioned Galvanized Pans

Stainless Steel and Copper

Buckets with color and more
Galvanized Bucket FAQ
Galvanized metal is just a form of steel with a thin outer coating of zinc oxide. The zinc protects the steel from elements that would otherwise cause oxidation, corrosion (rusting) and the eventual weakening of the steel. The way in which the zinc coating is applied to steel gives galvanized buckets their shiny or texture finish. Shiny finish galvanized buckets are of the same functional quality as the textured (hot-dipped styles) but are traditionally perceived as the more expensive choice.
Steel bucket advantages over plastic:
Weather and chemical resistant
Higher durability
Won't absorb odor
Rodent proof
Recyclable - upcycling
No petroleum in the product
Classic high quality and durability.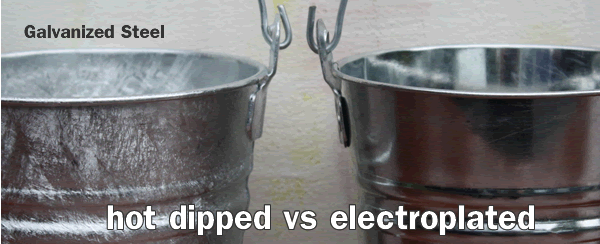 Electrogalvanized (electroplated) coatings are created by applying zinc to steel sheet and strip by electrodeposition. The coating thickness is less than the hot dipped process but provides a smoother finish. When slit or cut the steel edges under the zinc remain exposed, bare and threatened by corrosion. White rust or the product of zinc reacting with atmospheric oxygen and water does not occur on the smoothly finished galvanized steel buckets.
Hot dipped galvanized buckets are made durable from steel immersed in a bath of molten zinc. Pure zinc (Zn) reacts with atmospheric oxygen (O) and carbon dioxide (CO2) to form zinc carbonate (ZnCO3), a usually dull gray, fairly strong material that prevents corrosion.The zinc-iron alloy layers are metallurgically bonded to the steel and become an integral part of the steel rather than just a surface coating. Offering excellent abrasion resistance are the harder than the base steel and tightly bonded (3,600 psi) intermetallic layers. even if the durable intermetallic layers of the hot-dip galvanized coating are damaged (up to ¼" in diameter) adjacent zinc will sacrificially protect the exposed steel until all of the surrounding zinc is consumed.
Hot dipped buckets are less uniform for a rustic look most fitting for traditional farming and agriculture practices. Exposure to water over time will cause these buckets to oxidize with "white rust". Most commonly batch hot-dip galvanizing is used in atmospherically exposed steel; however, it is also used in fresh and salt water applications, buried in the soil, embedded in concrete, and much more.

Clear plastic storage lids are available for our 2 and 5 quart metal buckets (with top handle attaching through the sides of bucket).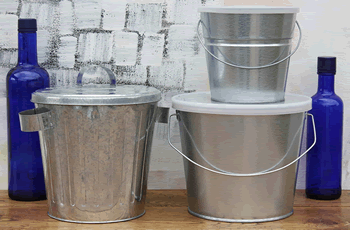 galvanized storage buckets with lids (in the photo above). The two and five quart buckets are available in color. 2 quart & 5 quart colorful metal storage buckets with lids.

All of our galvanized buckets are available in single, case pack, wholesale and pallet quantities. Call our friendly customer service in Virginia for information and pricing on wholesale and pallet quantities.

1-800-251-8824
Monday - Friday 8:30 am to 5:00 pm EST

Some of our Galvanized Buckets are sold in two styles, Labeled and No Label. The Labeled buckets will ship with the manufacture's label on one side of the bucket. Location and size of the label may vary. The no Label buckets have had the label removed by us prior to shipment. The No Label buckets are slightly higher in price to cover our cost of removing the label.


All of our buckets are intended to hold water, unless designed with holes (like these square metal planters) to allow water to drain. It must state, however, that the bucket has been sealed to ensure watertight. If a form of this statement does not appear your bucket is not manufactured gauntleted water-tight seal.
Two size bottles were selected to illustrate bucket size. The smaller blue bottle (12.7 ounces) demonstrates a regular size beverage. The larger blue bottle (26 ounces) represents a standard wine bottle. Bottle sizes calculated from the amount of bottles that fit STANDING UP with their bottoms on the base of the bucket. Thus, the actual number of bottles or beverages you can fit will generally be more than what is listed here.


Although popular for keeping drinks in their containers cold, most buckets do not meet USDA food safe serving standards. Our food-safe easy to clean 13 quart stainless steel water bucket is rust and scratch proof, odor-free, hygienic and dishwasher safe.

Click the image below to view this food-safe bucket.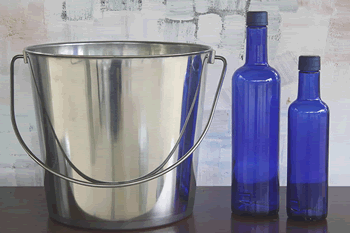 A wire reinforced top rim and the rings around the buckets, known as body swedes, increase the strongly built bucket's sturdiness. A rugged strong bucket handle makes handling and filling these buckets easy. An offset bottom keeps pail off the ground and makes pouring easy.
So, how safe is growing food and making soil from compost in galvanized steel containers? First it's handy to understand how galvanized steel buckets, tubs and containers are made.
Here is what we know
Zinc is the metal contaminate of concern when planting in galvanized steel. Is the zinc that leeches into the soil harmful to plants and the humans consuming it? Zinc is used as a common cold preventative and is apparently good for our body's biology as an "essential trace element" responsible for numerous functions. Can a person to ingest too much zinc?

"Zinc-galvanized steel is an excellent material for a watering can." Robert Rose, a professor of materials science and engineering at the Massachusetts Institute of Technology, in Cambridge, and a longtime gardener and greenhouse hobbyist, explains why, "Plain steel rusts and thus, a protective zinc finishing is key." When zinc interacts with air, known as oxidation, a small layer of tarnish develops to shield the underlying metal from further corrosion. It resists ruin better than most garden equipment, weathering extremes of temperature and contact with moisture, soil, and acidity. Plus, steel sheets are easily cut and shaped into desired forms [3].

Food and Drug Association
The acidity of some foods dissolves zinc. Galvanized iron should be avoided as a food contact surface because it is highly reactive with acids, explains number 4-101.15 (chapter 4) of the Federal Drug Administration's 2009 Food Code. The FDA recognizes the unsanitary threat of corrosive metal in serving containers.

The FDA has approved the use of galvanized steel for food preparation and conveyance for all applications with the exception of foods that have a high acid content, such as tomatoes, oranges, limes, and other fruits. The acid content in these foods will attack the zinc coating and cause accelerated corrosion. Many food products are stored on galvanized racks or in coolers with galvanized shelving.
The recommended daily allowances for zinc are listed in the table below from the National Institutes of Health.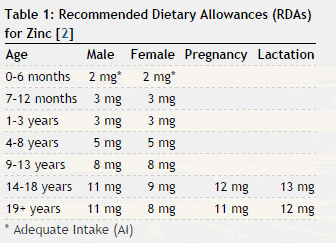 Yes, there can be too much of a good thing. The tolerable upper intake levels for zinc are in the following table. Although a requirement for a healthy body, excess zinc can be harmful. Absorbing too much zinc can suppress copper and iron absorption damaging proteins, lipids and DNA [1].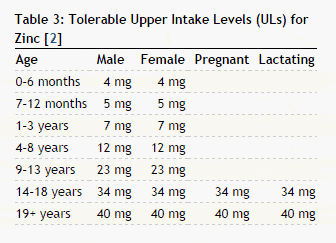 Study of heavy metal concentrations in vegetables
An August 2014 article published in the Food and Chemical Toxicology Journal investigated concentrations of four metals Zinc, Lead, Copper and Chromium in vegetables. The study's rationale questioned the likelihood of heavy metal contamination from fruit and vegetables grown in contaminated soils and irrigation water. The study presented original data on the concentration of heavy metals in some selected fruits and vegetables consumed in Algeria. The goal was to figure out whether they met international requirements. Human health risks were determined using the estimated daily intake (EDI) and the target hazard quotient (TTHQ) of these metals through consuming them in fruits and vegetables [1].

Noteworthy Points
Findings showed that Zinc and Lead are more likely to accumulate in fruits and vegetables, their mean concentrations were two to two and half times [2–2.5] those of Copper and Chromium. Results show also that within the selected fruits and vegetables, the highest concentrations of Lead and Chromium were obtained from root vegetables (onions, carrots and potatoes respectively) and tomatoes, while Zinc is more likely to accumulate in spinach and artichokes and Copper in potatoes and cucumbers.
The levels of metals in fruits and vegetables in the study were compared with levels in some other parts of the world. It seems that the levels are generally comparable for copper and zinc.
Average consumption levels were determined and compared to Provisional Tolerable Daily Intake (PTDI) levels established by FAO/WHO in 2001.
The consumption of fruits and vegetables with the levels of Copper, Zinc and Chromium found were largely below the PDTI values (500–1000–1500 µg metal/kg body weight/day for Copper, Zinc and Chromium respectively) of FAO/WHO.
The study concluded that Lead is the major component contributing to the potential health risk via consumption of fruits and vegetables.
Using global target hazard quotient no correlation was found for the levels of Copper, Zinc or Chromium recorded in the foods, "suggesting that it is not risky for the citizens to consume these elements when contained within fruits and vegetables. Some obvious health risks related to lead were found associated with the consumption of these vegetables[1]."
Galvanized pipe for drinking water….
Many municipalities across the globe use galvanized pipes to transport water into buildings. A Journal of Water Supply 2007 article assessed current water service in buildings from galvanized steel pipes and determined water supply contamination by testing for harmful concentrations of regulated substances. The researchers found that, "corrosion of galvanized steel is more affected by aging than any other physical properties," and that the corrosion of galvanized steel pipe over long period of time show, "little effect of chemical composition on the deterioration of a water supply [2]."





References
Abdelhamid Cherfi, Samira Abdoun, Ouardia Gaci, Food survey: Levels and potential health risks of chromium, lead, zinc and copper content in fruits and vegetables consumed in Algeria, Food and Chemical Toxicology, Volume 70, August 2014, Pages 48-53, ISSN 0278-6915
Cheol-Ho, B., No-Suk, P., Sang-Young, P., Hyun-Dong, L., & Seong-Ho, H. (2007). Assessment of galvanized steel pipes for water service in buildings by direct diagnosis method. Journal Of Water Supply: Research & Technology-AQUA, 56(5), 335-343.